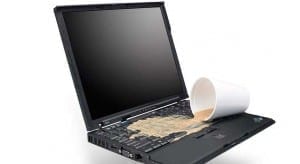 Eating and drinking around a computer is obviously not a smart idea, but we all do it. Laptop Repair offers Spill Recovery services so, that you don't have to suffer too long.
If you aren't certain that you have spill damage Laptop Repair can always preform an Internal Diagnostic to investigate the issue and if it determined that the issue is due to a spill capable technicians will proceed with our Spill Clean Up at your approval. Whether you've spilled liquid on your Mac or PC, our technicians can perform a thorough external and internal cleaning.
Here are some steps to follow if you have had spill damage:
We know you're busy and we all depend on our computers a little more than we care to admit. Bring your computer in for an Internal Diagnostic at one of our convenient Locations today and we will get you rolling again in no time!